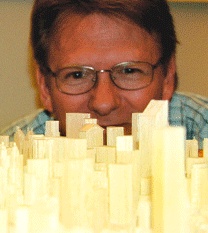 My interest in model cities goes way back to my early childhood, but a considerable amount of recent motivation can be attributed to the curious fellow on the right – Michael Chesko.
Chesko inspires me on several levels. Firstly, and most obviously, he has created a stunning scale model of Midtown Manhattan, New York. This is exactly the sort of model I dreamt of building when I first hatched my hair-brained idea to construct a model city of my own.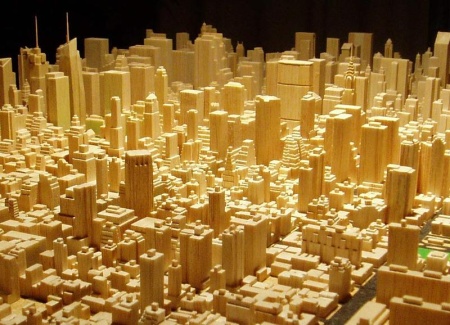 Secondly, and less obviously (and not obvious at all unless you know me), I can identify with Chesko. He's not part of a global architectural practice, with teams of helpers and high-end model making equipment at his disposal. He's just one guy in his home workshop, using such rudimentary tools as X-ACTO blades and fingernail files. And what's more, he's a geek like me! He used to be a software engineer at Motorola before embarking on his New York model, and it's that programmer's attention to detail and accuracy that I think makes his model such a success.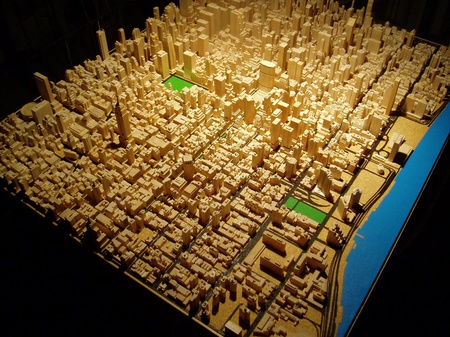 The model itself is constructed in balsa wood, and took approximately 2000 hours to complete. The entire model measures 36" x 30" (that's approximately 91cm x 76cm in new money). The scale used is 1:3200, so three-eights of an inch represents 100 feet (I'll stick with decimal, thanks very much). It's hard to see the scale in the above photographs – the picture below shows the model with a soup can for reference.
Chesko modelled each building based on blueprints, old photographs, digital reproductions, and satellite images. Incredibly he hadn't even visited New York until after the model was completed! The model now lives at The Skyscraper Museum, New York.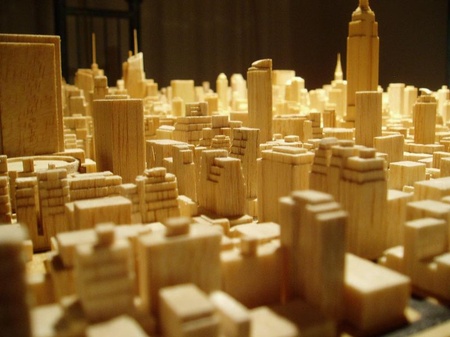 Mr Chesko, I salute you!